Northern Lords
Jump to navigation
Jump to search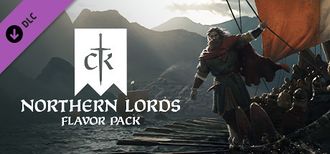 ---
Type
---
Release date / Patch
---
Store: Flavor Pack
Northern Lords is the 1st flavor pack for Crusader Kings III. It was announced on 2021-03-13[1] and was released on 2021-03-16 alongside patch 1.3.
The Vikings have left their indelible mark on the Middle Ages with their fantastic sagas of travel, plunder, and gods. Ferocious raiders from a frigid north or a complex society filled with intrepid explorers, traders, and poets? Discover the true richness of the Norse world.
Northern Lords lets players enhance their base game with a host of new options, including:
Norse Adventurer Realms: Famous for their adventuring spirit, Norse characters may uproot their realm, conquer foreign lands, and establish new kingdoms on distant shores with the Varangian Adventure mechanic.
New customization options: Get ready for ferocious Viking facial hair or clothe your ruler in historically appropriate wolfskin cloaks. A new background longhouse serves as the perfect scene and setting for your feasts and murderous schemes.
Jomsvikings and Shieldmaidens: Holy warriors and stalwart shieldmaidens are ready to take up their arms on your behalf. Equally influential are poet characters who can aid your prestige and diplomacy with their stinging rebukes or swooning romantic ballads.
Original Art and Music: A legendary musical score specifically created for this flavor pack hosts four new tracks, serving as the perfect accompaniment to a boisterous Viking adventure. Encounter new 3D models on the map and Norse-themed art adorning everything from loading screens to the user interface.
New Culture Content and Options: A host of new game features and options wait to be explored. Discover everything from Blot sacrifices, berserkers, trials by combat, runestones, to new cultural innovations, special Viking dynastic legacies, and a myriad of other new events, decisions, and characters.
Winter is added to the map.
Duels between two characters.
Become a poet.
Main article: Developer diaries

All developer diaries about the Northern Lords flavor pack and patch 1.3 (aka Corvus) and patch 1.4 (aka Azure).
Patch 1.4 (Azure)
Patch 1.3 (Corvus)