Crusader Kings III
Jump to navigation
Jump to search

Crusader Kings III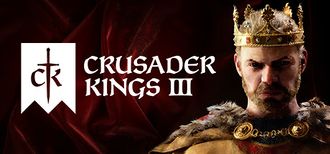 ---
Type
---
Release date / Patch
---
Store: Base game
Crusader Kings III is a grand strategy game-RPG hybrid , developed by
Paradox Development Studio and was published by Paradox Interactive on 1st September 2020. It is the sequel to Crusader Kings II which was released in 2012 and received content expansions until 2018 and then went free-to-play for the base game.

History
Choose a royal or noble house from a number of realms on a map that stretches from Iceland to India, from the Arctic Circle to Central Africa.
Guide a dynasty through the centuries, ensuring the security and power of each new generation. Gather new lands and titles to cement your legacy.
Be a pious king to bring the religious powers to your side, or strike out on your own, designing your own splinter religion and earning everlasting fame or eternal damnation.
Knights, peasant revolts, pilgrimages, Viking raiders...experience the drama and pageantry of the Middle Ages.

Character
Adopt one of five different lifestyles, perfecting your skills in military strategy or kingdom management.
Acquire character traits that will guide your actions, but beware if you act against your nature! The stress from denying your truest self could bring a new host of troubles!
Choose appropriate guardians for your heirs, or train them yourself. But what do you do if the legal heir is not quite up to the job?
Violent characters may develop a fearsome reputation, cowering your timid subjects into obedience with the dread you inspire.

Warfare
Recruit man-at-arms units and powerful knights to supplement your royal levies.
Research new technologies to increase the wealth and military might of your realm.
Hire mercenaries and Holy Orders for your major wars.
Supplement your income with ransomed prisoners or raiding parties on neighboring realms.

Intrigue
Use your spymaster to discover plots against your dynasty and your rule.
Recruit agents to assist your schemes to undermine or murder anyone who stands between you and power.
Seduce other characters for love or political power.
Gather information for blackmailing purposes or call in favors whenever your plans need an extra bit of influence.
Main article: Developer diaries

All developer diaries about the post-release patches, patch 1.1 (aka Chevron) and patch 1.2 (aka Argent)
Patch 1.2 (Argent)
| No. | Title and Link | Description | Date |
| --- | --- | --- | --- |
| 47 | Happy Holidays! | ..... | 2020-12-15 |
| 46 | 1.2.2 Patch Notes | Patchnotes for 1.2.2 | 2020-12-04 |
| 45 | 1.2 Patch Notes | Patchnotes for 1.2 | 2020-11-24 |
| 44 | 1.2 Bits & Bobs | Other Features for the 1.2 Patch: Kill List, Attach to Army, Force Realm Priest Endorsement, Tribal Walls / Tribal Holding variants, Reworked Dynasty UI, Improved Battle UI, Player Coat of Arms Graphics, Rally Point Improvements, Siberian Paganism, Improved Ugliness System, Matrilineal Game Rules, Naming Dynasty Members in Court and New Event Content | 2020-11-17 |
| 43 | A Ruler of Your Own | Ruler Designer | 2020-11-10 |
Patch 1.1 (Chevron)

All developer diaries about Crusader Kings III (the base game).
Crusader Kings III
| No. | Title and Link | Description | Date |
| --- | --- | --- | --- |
| 41 | A Grand Thank You | Briefly covers post-launch plans. | 2020-09-08 |
| -- | Patch 1.0.3. Out now! | Patchnotes for 1.0.3 | 2020-09-03 |
| 40 | A new journey begins | Covers Release and the Dev Team. | 2020-09-01 |
| 39 | Achievements Showcase | Covers Achievements. | 2020-08-25 |
| 38 | Legacy Showcase | Covers Legacies. | 2020-08-18 |
| 37 | Making Mods | Covers Modding and Scripts. | 2020-08-11 |
| 36 | Gotta Go Fast | Performance and AI changes | 2020-08-04 |
| 35 | User Testing Before Release | How pre-release user testing and feedback works | 2020-07-28 |
| 34 | It's all about appearances | Detailed information about the new portrait system | 2020-07-21 |
| 33 | An Offer You Can't Refuse | Feudal contracts and negotiations | 2020-06-30 |
| 32 | Going Medieval on Audio | The soundtrack and background audio of Crusader Kings 3 | 2020-06-23 |
| 31 | A Stressful Situation | An in-depth description of the pivotal Stress mechanic | 2020-06-16 |
| 30 | Event Scripting | An explanation of event scripting in Crusader Kings 3; the possibilities for modders | 2020-06-09 |
| 29 | Even the Smallest Decision... | An example of a possible playthrough | 2020-06-02 |
| 28 | Art Focus | The art of Crusader Kings 3 | 2020-05-26 |
| 27 | Cultures & Cultural Innovations | The new union of cultural and technological mechanics | 2020-05-19 |
| 26 | Map Scope | In-depth looks at parts of the map; descriptions of special building bonuses | 2020-05-12 |
| 25 | Map Features and Map Modes | Terrain, and a look at map modes | 2020-05-05 |
| 24 | Fervor, Religious Hostility, and Doctrine Showcase | A description of the fervor/religious hostility mechanics | 2020-04-28 |
| 23 | Holy Orders | Updated Holy Orders: founding, hiring and fighting them | 2020-04-21 |
| 22 | A Medieval Tapestry | Gender and sexuality mechanics, and diversity in faiths | 2020-04-14 |
| 21 | Custom Faiths and Pagan Reformation | On creating new faiths and reforming pagan religions | 2020-04-07 |
| 20 | Religion and Faith | Tenets, Doctrines and religious hierarchies | 2020-03-31 |
| 19 | Factions and Civil Wars | Factions, faction management and civil wars. | 2020-03-24 |
| 18 | Men-at-Arms, Mercenaries and CBs | Casus belli, cost of war declaration, men-at-arms and mercenaries. | 2020-03-17 |
| 17 | Governments, Vassal Management, Laws, and Raiding | Government types, feudal contracts, inheritance and raiding. | 2020-03-10 |
| 16 | Tutorials and Tooltips and Encyclopedias, Oh My! | Showing the tutorial system and in game encyclopedia. | 2020-03-03 |
| 15 | The Martial Lifestyle | The three martial focus traits and trees (strategy, authority and chivalry). | 2020-02-25 |
| 14 | The Diplomacy Lifestyle | The three diplomacy focus traits and trees (foreign affairs, majesty and family). | 2020-02-18 |
| 13 | The Learning Lifestyle | The three learning focus traits and trees (medicine, scholarship and theology). | 2020-02-11 |
| 12 | The Stewardship Lifestyle | The three stewardship focus traits and trees (wealth, domain and duty). | 2020-02-04 |
| 11 | Seduction, Torture and the Intrigue Perk Trees | The three intrigue focus traits and trees (skulduggery, temptation and intimidation). | 2020-01-28 |
| 10 | Lifestyle Events | Expands on lifestyle events. | 2020-01-21 |
| 9 | Lifestyles | The new lifestyle system and skill trees. | 2020-01-14 |
| 8 | Courts, Guests, and Wanderers | The augmented courtier system and wanderers. | 2019-12-17 |
| 7 | Characters & Portraits | The revamped trait system and portraits. | 2019-12-10 |
| 6 | Council, Vassals, & Spouse Councillor | The councilor system and vassal mechanics. | 2019-12-03 |
| 5 | Schemes, Secrets and Hooks | The revamped intrigue system. | 2019-11-26 |
| 4 | Development & Buildings | Explaining baronies and buildings. | 2019-11-19 |
| 3 | War | Updated war mechanics. | 2019-11-12 |
| 2 | The Medieval Map | Map changes from CK2 to CK3. | 2019-11-06 |
| 1 | Dynasties & Houses | The new dynasty system, houses, renown and legacies. | 2019-10-31 |
| 0 | The Vision | The vision for Crusader Kings 3 | 2019-10-24 |
| 0 | An Heir Is Born! | The announcement diary for Crusader Kings 3 | 2019-10-19 |